Ayalla A. Ruvio, Michigan State University and Forrest Morgeson, Michigan State University

Posted On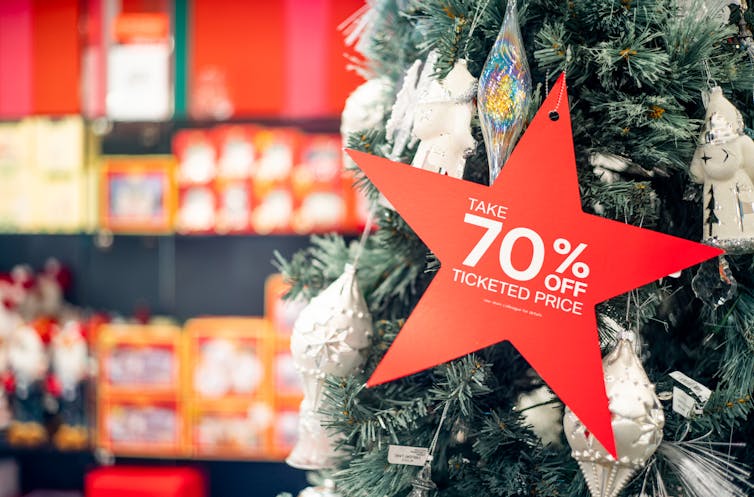 With two big shopping days on the horizon – Black Friday and Cyber Monday – U.S. retailers are getting ready for the most important time of the year. The stakes are high: For some companies, the holiday shopping season accounts for 50% of annual revenue. But economic uncertainty and recent inflation could put a damper on customers' holiday spending, our new research suggests.
As marketing professors, we know that consumer spending drives the U.S. economy. So for the second year in a row, we surveyed more than 500 Americans about their holiday shopping plans. We found that consumers are conflicted: They're excited for deals and looking forward to treating themselves, but they're feeling squeezed by high prices.
Consumers are starting the season cautiously optimistic …
When it comes to Black Friday and Cyber Monday, two-thirds of respondents say they think deals will be as good as or better than they were last year — up from 56% in 2022. That's in line with the predictions of market research firm Adobe Analytics, which expects record discounts this year.
Shoppers also plan to splurge a little on Black Friday and Cyber Monday. The share who plan to prioritize shopping for necessities fell slightly from 2022, while those who plan to buy luxury items rose modestly. Meanwhile, plans to spend on big-ticket items stayed stable at 15%.
Despite a minor shift to more expensive items, these findings are concerning for retailers. That's because big-ticket items have historically been one of the top three categories for consumers spending money on Black Friday and Cyber Monday, and 15% is on the low side.
Like in 2022, the majority of consumers we surveyed — 68.2% — plan to shop mostly online. Fewer than 11% of the respondents in our survey said they plan to shop in-store this Black Friday, so malls may suffer from lower foot traffic.
… but they're still acting like there's a recession
Last year, despite the brightening economic outlook, we found that customers were pinching pennies and otherwise behaving in ways most commonly seen in times of economic crisis. This year, inflation-fatigued consumers plan to do much the same.
High prices and inflation are still consumers' main concerns, with roughly 90% of our respondents saying that those issues will affect their holiday shopping. On average, they plan to spend about US$665 on gifts this holiday season — about $35 less than last year, and substantially less than the National Retail Federation's 10-year average of $826.
On a more optimistic note, the number of people who said they intend to spend "slightly less" or "much less" than last year fell to 24.2% this year — a 10-percentage-point drop from 2022. While nearly 39% of respondents said they will spend "about the same" amount, in nominal terms this means that they will be spending less accounting for inflation.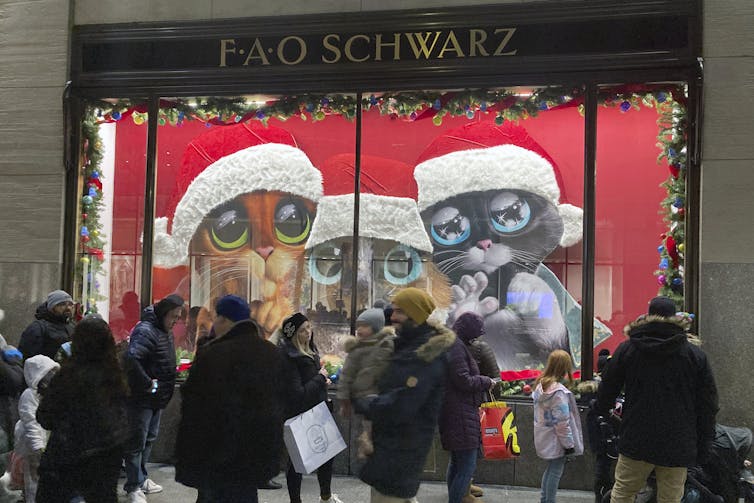 Meanwhile, shoppers seem to be budget-planning more than ever. Customers told us they plan to use a variety of strategies to control their purchases, such as strict shopping lists and starting shopping earlier to spread their spending out.
However, we found a silver lining for retailers: While consumers are planning to spend less this year, they expressed more interest in brand names and expensive gifts, which tend to have higher profit margins.
One notable change from 2022 is that more customers think retailers will offer "great value." This indicates that while consumers are looking for the best prices and affordable options, they aren't necessarily looking for cheap products.
In times of economic uncertainty, consumers want to stay in control of their spending. So it's not surprising that almost 50% of our respondents said they would be doing their holiday spending using funds they'd saved for that purpose. A similar proportion said they plan to use credit cards.
However, the use of buy-now, pay-later options is stagnating at about 15%, even though many big retailers have adopted them. This suggests that even though these options are more readily available to consumers, budget-conscious shoppers may be avoiding them.
The bigger picture
Our research adds to an overall mixed picture about this year's holiday retail season. Trade groups and economic analysts have made conflicting predictions, with some forecasting a return to pre-pandemic holiday spending and others expecting shoppers to exercise caution.
Retailers are also split on their holiday forecasts. Amazon appears bullish, having significantly boosted its seasonal hiring, while FedEx and Target have been more downbeat.
That makes sense, given the broader economic context. Although the U.S. unemployment rate is relatively low at 3.9%, more than half of our survey respondents said they were worried about their job security, with about one-third saying they were "moderately" or "severely" worried. Only 13% said they had no financial concerns at all.
As the U.S. economy is still experiencing uncertainty, consumers are continuing to adopt recession-related shopping behaviors this holiday season. That means retailers would be wise to focus on providing true value.

Ayalla A. Ruvio, Associate Professor of Marketing and the Director of the MS of Marketing Research program, Michigan State University and Forrest Morgeson, Associate Professor of Marketing, Michigan State University
This article is republished from The Conversation under a Creative Commons license. Read the original article.